If you are looking for any logo'd promotional products, you have come to the right place! Whether you are looking for a specific item or just browsing for ideas, Bernstein Lash Marketing is your one-stop shop. We are a member of a national association (ASI) which provides us access to 300,000+ products from over 18,000 suppliers, so we can get you just about anything with your logo and message on it. Because we offer so much, our website can be a little overwhelming and many times, a product is offered by multiple vendors at different price points. Let us do the research for you and find you the best possible price for the product you are looking for. If there is something you want but don't see it on our site, contact us. Chances are, we can get it! Remember, research is part of our service.
Our Work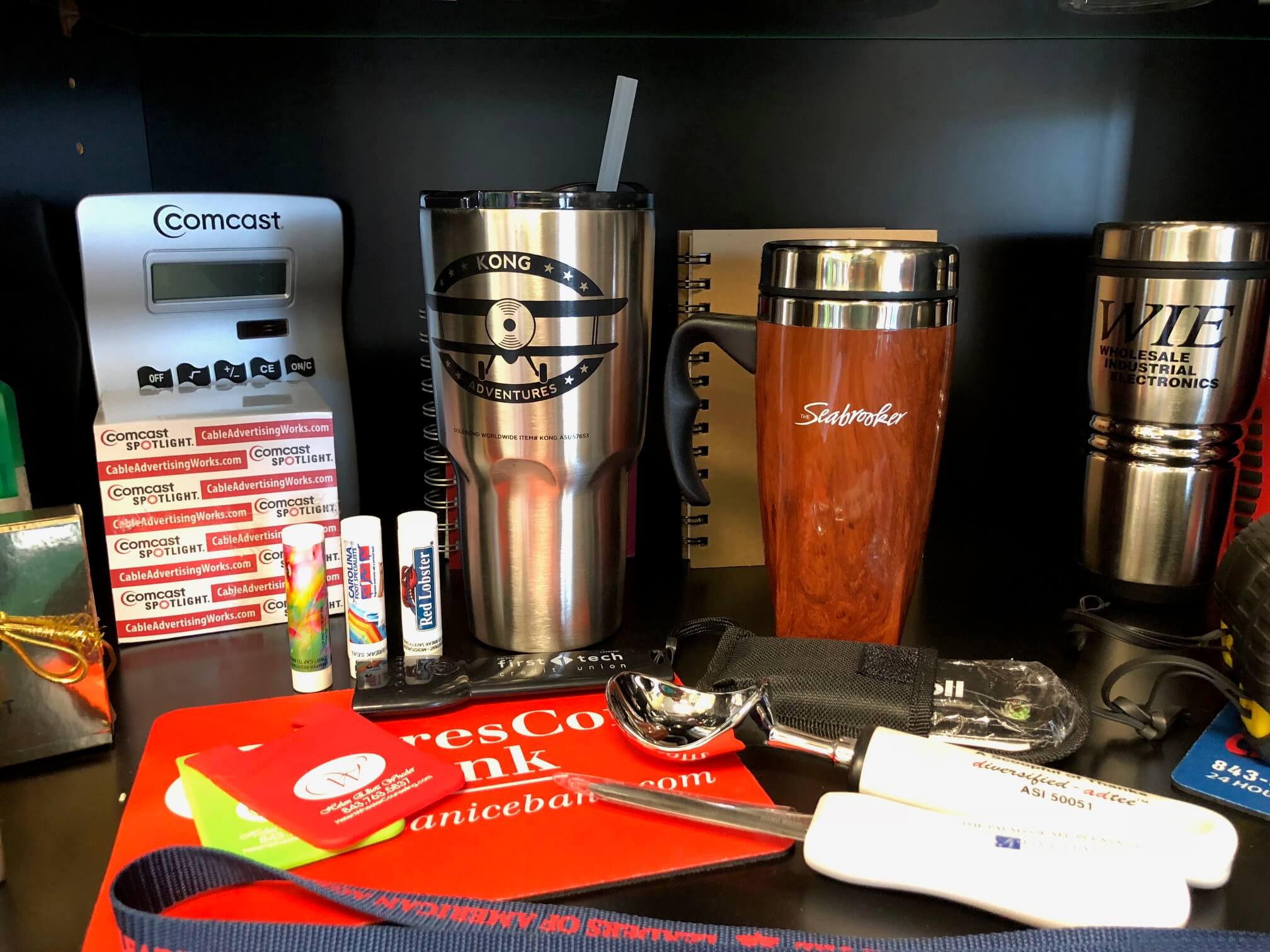 What We Offer
Promotional products are the fun part of our business! We get to be creative by finding logo'd products that businesses can give to their clients which promote their business. Who doesn't love a free gift? Who doesn't love a client that actually thanks them for a gift – and helps advertise their business? This is a great win-win situation for all involved.
Our goal is to offer our clients the best value for their dollars spent. We always try to find great deals for our clients, where we can pass along the savings to them and we strive to meet or beat our competitor's pricing. If we can't – we'll tell you, you're getting a great deal and respect the fact that you continue to purchase from your current vendor.
Why Promotional Products
Promotional products, also known as ad specialties, make up a nearly $22 billion-dollar industry and are used by virtually every home and business in America. Why? Items like mugs, pens, and t-shirts are memorable and provide a better cost per impression for advertisers than almost every major marketing effort like TV, radio, magazines, and the Internet.
We are able to supply your company with a wide variety of promo items from over 18,000 suppliers. With so many ad specialties available, there is a huge opportunity for professionals like you to boost your ROI and leave a lasting impression with your customers. Our mission is to help you create long-lasting relationships with your clients through the power of promotional products.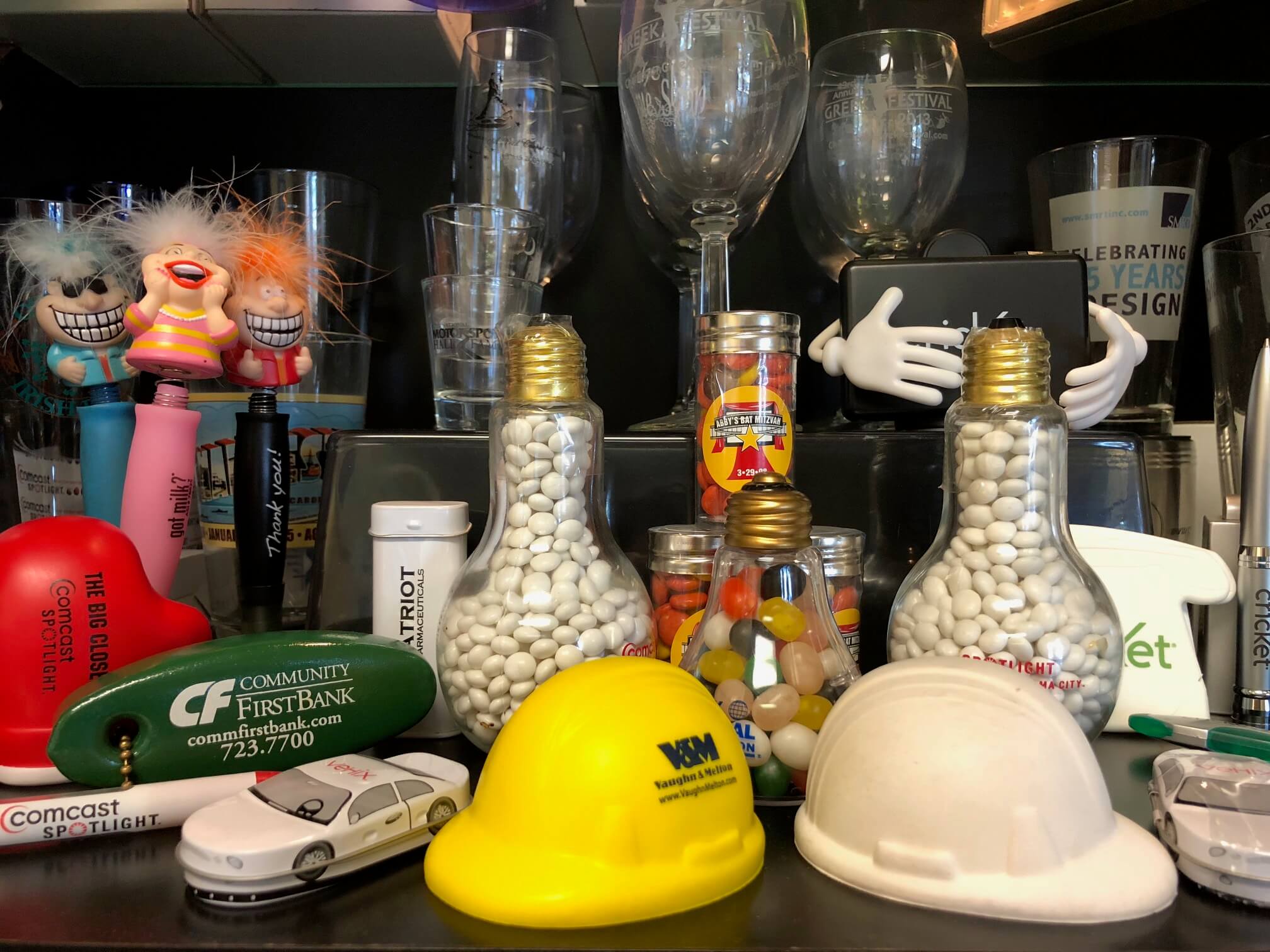 Benefits
Affordable: The return on investment with promotional products is so high because of the number of impressions the products receive.
Long Shelf Life: Most promotional products have a shelf life of many years.
Thank You: Promo items make great thank you gifts for your clients, all while promoting your business to everyone else they come in contact with that also sees your logo. It's a win-win for everyone!
Useful: Make sure the product you choose is going to be used. The worst thing you can do is spend money on products with your logo on them and have them end up in the trash.
Targeted Marketing: You can easily target a wide range of different audiences based on the products you choose.
The following statistics are the average number of impressions for the top 10 promotional products in the United States.
Outerwear: 6,100 impressions
Headwear: 3,400 impressions
T-Shirts: 3,400 impressions
Bags: 3,300 impressions
Pens: 3,000 impressions
Shirts: 2,300 impressions
Office Supplies: 1,500 impressions
Drinkware: 1,400 impressions
Umbrellas: 1,100 impressions
Electronics: 900 impressions
Most Valuable Vendors
Nothing we do would be possible without the partnerships we have nurtured with our vendors. We have had relationships with many of these companies for decades. They value our business by providing us special pricing that we always pass along to our clients. Our vendors are the reason why we can provide our clients with exceptional products and service.